be_ixf; php_sdk; php_sdk_1.4.18
23 ms
iy_2021; im_09; id_21; ih_08; imh_50; i_epoch:1632239447279
ixf-compiler; ixf-compiler_1.0.0.0
py_2021; pm_09; pd_07; ph_08; pmh_16; p_epoch:1631027787331
link-block-publisher; link-block-publisher_link-block-publisher; bodystr
pn_tstr:Tue Sep 07 08:16:27 PST 2021; pn_epoch:1631027787331
0 ms
be_ixf; php_sdk; php_sdk_1.4.18
https://sou.edu/admissions/discover/
https://sou.edu/admissions/discover/
SOU Community
&

Programs

With a campus of over 5,800 students and a culture of engaged faculty, SOU supports strong, meaningful connections and emphasizes inclusion and sustainability. SOU strives to guide all learners to become knowledgeable and innovative, creating lives of purpose.
Set Your Path to Success
Learn more about SOU's degree programs, select graduate degrees, minor disciplines and specialized certificates.
JACKSON AND JOSEPHINE COUNTY PLEDGE PROGRAM
This new pathway for graduates of Jackson and Josephine county schools offers a three-year plan with a substantial tuition discount. Students gain a full university experience for a fraction of the normal cost.
ACCELERATED BACCALAUREATE DEGREE PROGRAM
Also known as "Degree in Three," the Accelerated Baccalaureate Program allows qualified students to earn a bachelor's degree in just three years, saving one year's worth of tuition while maintaining a regular course load.
BRIDGE PROGRAM
The Bridge Program at SOU is committed to Oregon's first-year college students, especially first-generation students, second language learners, and other under-served groups.
AMERICAN SAMOA TO SOU
American Samoa to SOU (ASTS) tuition rate can save students $12,000 per year, compared to the out-of-state rate. The ASTS rate is equivalent to 150% of the Oregon resident tuition rate.
THE HONORS COLLEGE AT SOU
Combining real world projects with intellectual rigor, the Honors College aims to provide an amazing academic experience – in the classroom and throughout the community.
SOU Post Graduation Success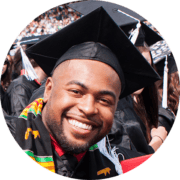 85% of recent SOU graduates are employed in their field or continuing their education in graduate school.
68% of that 85% are employed in their field with 17% in graduate school.
Source: First Destination SurveyNACE Center for Career Development and Talent Acquisition – 2021