DEGREE IN THREE PROGRAMS
Streamline your educational goals and save money! SOU's Degree in Three program opportunities accelerates your time to a degree by shortening and customizing your degree pathway. Speeding up your time to graduation allows you to enter your career earlier, travel, or jumpstart your graduate school options.
BRIDGE PROGRAM
The Bridge Program at SOU is committed to Oregon's first-year college students, especially first-generation students, second language learners, and other under-served groups.
AMERICAN SAMOA TO SOU
American Samoa to SOU (ASTS) tuition rate can save students $12,000 per year, compared to the out-of-state rate. The ASTS rate is equivalent to 150% of the Oregon resident tuition rate.
THE HONORS COLLEGE AT SOU
Combining real world projects with intellectual rigor, the Honors College aims to provide an amazing academic experience – in the classroom and throughout the community.
SOU Post Graduation Success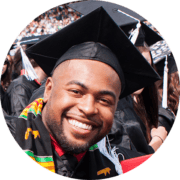 85% of recent SOU graduates are employed in their field or continuing their education in graduate school.
68% of that 85% are employed in their field with 17% in graduate school.